Safe Tech Deluxe Harness - Womens
Item Details
|
Reviews
(
2
)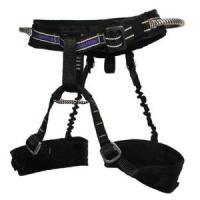 Manufacturer:
Metolius



This item may be available at:
Description
The Metolius Safe Tech Womens Deluxe Harness is one of the best fitting, safest harnesses in the world. The Womens Deluxe is a beefed up version of the All-Around and is designed to lend maximum support to the lower back while simultaneously providing unparalleled freedom of movement. Hard on the outside, soft on the inside with a tough 1050d Ballistics outer layer and a polyethylene foam with brushed inner lining, it is ideal for Big Wall and long Trad, or Sport routes where comfort is paramount. Metolius sophisticated adjustment system lets you fine tune the fit by adjusting the riser length that is the distance between the waist belt and the leg loops. Women generally have much longer riser lengths than Men, so this is particularly important for sizing Womens harnesses. This harness also boasts the worlds toughest and longest wearing tie-in points. Every component, including leg risers, the gear, haul, and belay loops are engineered to withstand a load of at least 2250 lbf 10kNthats FULL strength and typically the max impact force rating of a modern climbing rope. ABOUT SAFE TECH HARNESSES: Due to an alarming number of accidents involving the misuse of harnesses and/or the failure of harness components, Metolius designed their Safe Tech Series with every possible margin of safety in mind. The structural systems of the Safe Tech harness have been made as redundant and error-proof as possible, e.g., the waist buckle even shows the word DANGER if not correctly double-passed.
2 Reviews
Review
Review by: magpie, 2004-12-19
I loooove this harness. The most comfortable harness I've tried... probably in part to the adjustability. The only reason it gets a 4 is, like mountainchick, I wish it had easy-release leg loops. I've squatted without taking the harness off, but it's not something that can be done without much careful attention. I almost can't believe that they thought of so many things but not a drop seat....
Review
Review by: mountainchick82, 2004-03-09
wish it had droppable leg loops.