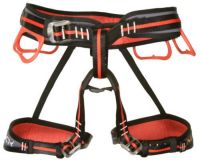 Manufacturer:
Mad Rock



This item may be available at:
Description
A woman's specific version of the Mars, the Venus leaves nothing to chance for ladies looking for security, fit, and comfort in their climbing harness.
XS Waist 24"-28"
S Waist 26"-30"
M Waist 29"-33"
L Waist 30"-35"
2 Reviews
Best
Review by: Chloesp, 2011-07-11
This harness captures the cuteness every chick wants while ensuring ultimate comfort for even the longest climbs! Highly recommend this! Make sure you get it sized correctly as I had a size to big and it did pinch a bit but now that I have the right size I wouldn't get any other! The padding is awesome for comfort with out being huge and bulky and it allows all ranges of movement without hindrance!
good buy, cute look
Review by: Dianna, 2008-07-24
It sometimes pinches a little in the groin area, but it's a great deal for a cute and mostly comfortable harness.