Ecrin Roc Helmet
popular
Item Details
|
Reviews
(
42
)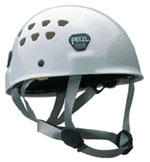 Manufacturer:
Petzl



This item may be available at:
Description
This helmet features a suspension system that is easily adjusted by wheels on each side. Its compact profile and snug fit make this helmet a great choice for all types of climbing.
The Ecrin Roc is fitted with 2 adjustment wheels for a perfect fit. Supplied with 2 foam headbands (choose thick or thin foam according to size). Thanks to the numerous holes in the shell, it offers perfect ventilation. When the wind and cold really bite, a set of plugs (sold as an optional extra, ref. # A01870) allows you to keep your thoughts clear, and your head warm!
Technical specifications :
* Colors:
o white, ref. # A01 W
o red, ref. # A01 R.
* Size: Universal
* Weight: 475 g
CE - UIAA
42 Reviews

Write your own Review


Read all 42 reviews
Great helmet for breaking a fall
Review by: iching, 2010-07-03
A couple years ago I while exporing a new line I took a 25 foot fall while wearing a Ecrin Roc. On the way down my foot hit the side of the rock breaking two toes and flipping me over so that I landed on my head on a sloping ledge below and then pendulum another 15 feet. Compared to everthing else I hit, landing on my head felt like falling into a pillow. I felt the helmet deforming around my head absorbing the shock and I'm sure saving my neck. If you've ever been knocked out wearing one of the old style metal hardhats you know the thing that hurts the worse the next day is your neck. I never did feel soarness in my neck. I've replaced this helmet with another Ecrin Roc.
Rockin, Helmet!!!
Review by: skitzboy, 2009-06-08
I absolutely love this helmet it is easy to fit, COMFORTABLE, and very nicely designed. I have only taken a couple of small quarter sized rocks to the head from maybe 15-20 feet, but it stopped them with no transfer of energy or shock transfer. It is also stylish and does not have the bicycle helmet look that most of the new helmet have.
Ecrin Roc
Review by: rudolphluciani, 2007-08-14
I like this helmet alot, though thankfully i've never had to use it. It is light and comfortable and well ventalated and will acomadate a warm hat or a billed cap. I've got no complaints, plus i got it for fifty bucks.
ecrin roc
Review by: eddietheteddie, 2007-03-06
Great multi purpose helmet, light and comfortable, headlamp bands work great when caving, great buy
owe it my life...
Review by: applewood, 2007-01-18
I once grounded out 35' onto my head, tore out the suspension, and put a hole in the shell, but i survived with only a big concussion and a little hole in my scalp. This thing works! It holds up to daily wear and tear and apparently handles full force well. Better than average comfort, adjustability, and ventilation (I've used Joe Brown - fiberglass, Edelrid ultralight, and an Air non suspension style multi-sport helmet before). You get used to bumping your head due to it riding high, but the suspension saved my life, and I'm not sure a foamed lined helmet would. Now I don't lead without it.....