Hemisphere
Item Details
|
Reviews
(
3
)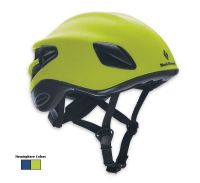 Description
Oh we've all been there—that age-old dilemma—"Should I wear a hard-shell or soft-shell helmet?" Well, the Hemisphere is here to save the day. As a "hybrid" helmet, the Hemisphere spans the gap between foam and hardshell helmets and delivers the benefits of both. You get hardshell protection from rockfall, as well as an incredible ventilation system that'll keep you cool when the temps skyrocket. The Hemisphere is made of a polycarbonate shell with EPS foam—which means it's both light and durable. Streamlined, lightweight and totally versatile, the Hemisphere is a four-season helmet that can't be beat.
Sizes: S/M, M/L
Colors: Blue (s/m only) or Green.
Weight: 350 g (12.3 oz).
Hybrid helmet that delivers benefits of both soft- and hard-shell helmets
EPS foam and co-molded polycarbonate shell are durable and lightweight
Rear vent holes and air channels keep you cool
3 Reviews
Great for large heads
Review by: keinangst, 2006-12-06
I tried on about a half dozen helmets, and this one was by far the best fit. The style is okay, the size is pretty bulky, but for a cragging helmet it's great. Protection against both falling objects and head-first strikes. Obviously if you don't care about the second one, any shell-type helmet will do the job. With cragging, I'm more concerned about taking an upside-down fall, so I appreciate the extra sense of security of the bulkier foam helmets. Hot in the summer.
Review
Review by: madrock, 2004-12-17
Heavy, ugly and cheap. Looks like a k-mart bike helmet. Its no wonder this product is no longer made .
Review
Review by: theying, 2004-06-09
This helmet is comfortable and lightweight. I climb in the desert and its ventilation is wonderful.