Rock Star Climbing Helmet
popular
Item Details
|
Reviews
(
2
)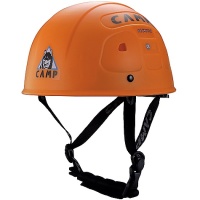 Manufacturer:
CAMP USA



Available now at:
Description
Even if youre not pioneering a new route up Half Dome, put your dome in the Camp USA Rock Star Helmet for protection from falling rock or ice. This basic climbing helmet is light and functional for beginning rock jocks to seasoned mountaineers, with its tough polyethylene shell and slide adjustable nylon inner structure. The chin strap attaches with an adjustable clip and the chin padding adds a level of comfort to cold, wind-burned faces. The Rock Start fits heads 20.5-23.5 inches 52-60cm in circumference.
2 Reviews
Rock Star will suffice
Review by: phang_nga, 2007-04-19
Climbing almost exclusively on limestone, I feel confident that this helmet will protect my coconut if something breaks loose above.

The price was, of course, part of the factor in choosing this helmet.
Review
Review by: macherry, 2004-05-25
Being the cheap person i am, i went for the most inexpensive helmet i could find. The Camp Rock Star fit the bill. I was pleasantly surprised with the fit; the adjustments were easily made for my head size. There's not a lot of ventilation, but i never found the helmet hot or uncomfortable. You don't get extras with this helmet (no attachments for headlamps), but it's a great, light lid for a day at the crags.