Silver Star Climbing Helmet
Item Details
|
Reviews
(
8
)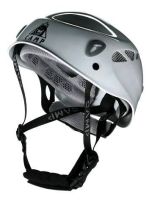 Manufacturer:
CAMP USA



This item may be available at:
Description
The CAMP Silver Star Climbing Helmet is the best way to protect your precious melon while staying comfy on a face. A compact design and an efficient adjustment system enhance your comfort and wont make you look like an astronaut. The Silver Stars ABS shell provides awesome protection from rapidly approaching rock as well as whatever horrors you expose it to in your car.
8 Reviews

Write your own Review


Read all 8 reviews
Awesome Helmet
Review by: d0nk3yk0n9, 2009-05-29
I work at a camp's climbing tower and high ropes course and they require that I wear a helmet. I've previously used their Ecrin Rocs that they have for staff to wear, and I thought that they were a pretty decent helmet, although somewhat hot. After I grabbed the CAMP Silver Star off of Steep and Cheap and wore it for a little while, I realized how vastly superior it is. For my purposes, I need a helmet that I can wear more or less all day without it being hot or uncomfortable. I found that this helmet works great. The vents, though they don't seem like much, get the job done, and the entire thing is so comfortable that I forget that I'm wearing it.
Silver Star
Review by: charlazio, 2006-12-26
Overall, it's a good helmet. Although it is on the heavy side, it's super comfortable and has taken some dings for me. I've worn it on some high-altitude climbs and I've found that my neck gets tired after about 6 or 7 hours of wearing it. I even took it off on the summit of Pisco Oeste and descended w/ it strapped to my pack. Bottom line: Great for a day at the crags, not so great for super long day wear.
Camp Silver Star helmet
Review by: Dartfrog, 2006-12-24
Ok if you want a solid secure feel from the top but the sides feel way to high!. Good fitting well made, comfortable helmet. However, overall I found it way too heavy. Not sure about the climing mag review on this one...
returning it
Review by: exposeur, 2006-12-18
this is just my personal experience but I find it too heavy, it rides too high, there's not enough coverage on the sides or back of the head, and it's definitely too hot. mine doesn't seem to have this "antimicrobial mesh" going on, either.. actually i wonder if it's an older model.. hmm
Silver Star
Review by: truello, 2006-12-18
Saw this helmet on the clearance rack at REI for an astounding $19.99. I had been looking for one mostly for caving but also for climbing and this was a great deal. I had no previous knowledge of CAMP USA equipment but researched the helmet and brand after I got home and found this was a great deal. It fits comfortably and hasn't given me any problems after hours of wear. My only complaint is the ear strap lengths can not be adjusted.