Skywalker 2 Climbing Helmet
Item Details
|
Reviews
(
2
)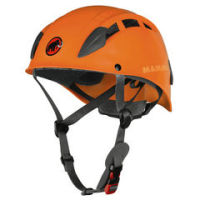 Manufacturer:
Mammut



Available now at:
Description
Well-ventilated climbers helmet with ergonomic fit made from extremely durable plastic hard shell, the Mammut Skywalker 2 Climbing Helmet features a thumb wheel hat enables quick, single-handed adjustment. New with stronger EPS inner for a longer life span.
2 Reviews
Skywalker 2
Review by: ianmeister89, 2010-02-25
Not great, not bad. I have an exceptionally large head, and it fits nicely, but my girlfriend's head is smaller than mine, and it doesn't fit tightly enough for it to be safe. Normally you'd just buy a smaller size, but there is only one size for this helmet. Also, it lacks UIAA certs, which could give the user a little more peace of mind.
not so good
Review by: boulderror, 2009-08-11
a normal helmet, nothing special. The foam inside has a strange profile which made the helmet painfull on top of your head. Try hitting it while you wear it and you'll know what I mean.