Starlight Climbing Helmet
Item Details
|
Reviews
(
2
)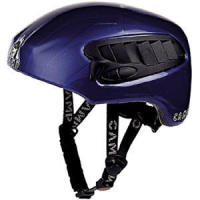 Manufacturer:
CAMP USA



This item may be available at:
Description
The Camp Starlight is an ultralight, low-profile climbing helmet thats ideal for rock climbing when weight and bulk are a major concern. The Starlight helmet weighs only 10.6oz and protects against falling rocks as well as head impact in a fall. A thin polycarbonate shell covers the impact-absorbing foam interior. This Camp helmet is great for both sport and trad climbing and has headlamp clips for times when your in-a-day route takes longer than expected.
2 Reviews
great helmet
Review by: rimejal, 2008-06-09
I have had a Starlight for about two years. The adjusting system is fast and comfortable. It fits well, it has never being annoying in long climbs, not even it warm weather.
Review
Review by: findingit, 2006-08-29
Love this helmet!! I've owned only Petzl helmets, the last being the Elios Class, which broke from being compressed in airplane cargo (no surprise). I find the Camp Starlight equally airy (in terms of ventilation) and even less noticeable on my head. I don't find that I knock my head on overhead objects as much, the lower profile really makes a difference. In terms of durability I can't say much, no bombardments as of yet.

Great peice of equipment, worth every penny!

P.S. I forgot to mention the adjustment system. It's great! I especially like the extra adjustment at the chin strap for quick loosening when belaying or chillin......haven't seen a helmet with that before.