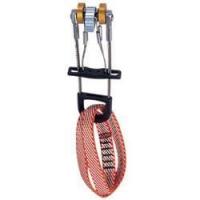 Manufacturer:
Trango



This item may be available at:
Description
Trango 3 Cams have the well deserved reputation of being the most durable, user-friendly and economical cams you can get. (See the different sizes in the last sales argument) *To make them easy to use they feature a free floating trigger bar that you can operate with one, two or three fingers, even if you're wearing gloves. *Trango double-loops and bar tack a Spectra sling onto the cam so you can clip the frame directly for aiding, through both loops for a short sling, or as one loop to eliminate the need for an extra draw. *Trango's 3 Cams have a 50% thicker center cam to prevent deformation failure. The design of Trango's trigger bar not only saves weight but the runner sleeve increases the strength of the unit by 15%. *The trigger bar lets you actuate the cams independently when you're fiddling around with a tricky placement--very nice--and it won't get all jammed up if you get a bunch of grit in the cable. *3 cams can be ordered in the following sizes and dimension width. No.1 is 15-20 mm No.2 is 17-23 mm No.3 is 19-28 mm No.4 is 22-34 mm
FYI, Trango stopped producing 3CU's in 2001.
4 Reviews