3CU&4CU redesign
Item Details
|
Reviews
(
3
)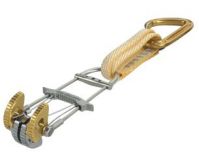 Manufacturer:
DMM



This item may be available at:
Description
In the past our cams have sold themselves on Weight, Strength and the benefits of an extendable double dyneema sling coupled with a very competitive selling price. Here's the good News . From Spring 2005 They will be LIGHTER, have a LONGER Dyneema sling, yet remain the same strength and Price ! Slight changes to the anodising will make them look even sharper, and lightening holes in the cams and spreader bar save precious grams. You also get the advantage of the new Spectre carabiner on the procam sets whichagain saves even more weight. What more could you ask.[list] [*]Lighter overall [*]Longer Dyneema sling [*]New 32 gram Spectre carabiner on procam sets [*][b]Colors to match Wild Country equivalents[/b][/list] Individual stats:[list][size=12][b] [*]Size 0.5: 13-19mm, 14kN, 76g [*]Size 0.75: 17-24mm, 14kN, 81g [*]Size 1: 19-29mm, 14kN, 93g [*]Size 1.25: 21-33mm, 14kN, 95g [*]Size 1.5: 23-35mm, 14kN, 97g [*]Size 1.75: 25-41mm, 14kN, 101g [*]Size 2: 29-44mm, 14kN, 107g [*]Size 2.5: 33-55mm, 14kN, 121g [*]Size 3: 43-66mm, 14kN, 137g [*]Size 3.5: 51-82mm, 14kN, 159g [*]Size 4: 64-100mm, 14kN, 187g[/b][/size][/list] A complete set weighs 1,254 grams or approximately 2 3/4 pounds
3 Reviews
4CU
Review by: JRBarnett, 2009-06-30
Great piece of gear. I got the #2 and #2.5 to fill the gap i've felt between the .75-1 / 1-2 BD. DMM makes a bunch of in between sizes so if you don't need a whole set they're a great augment to any rack. I definitely fell in love with this design. Similar to the the TCU design but if you have thicker fingers you'll appreciate the wider stem.

Once you try these out you'll see that everything was well thought out. I love the extendable slings, but as mentoined below any route that really wanders you'll probably need to use a full size sling anyways.

I would recommend that everyone check these out in store. Once you pick it up you'll feel the difference.
3cu procams: 4.5 stars!
Review by: psprings, 2007-05-11
Like the Metolius ultralights, I love the new DMM procams. I only have 3 [1.25, 1.50, 1.75] of the 3cus that I got for extra desert splitter sizes... and I love them! They're not as light at the ultralights, but they're lighter than most other cams out there. I love the U-stem trigger system [you'll either love or hate this feature of them]. The doubled spectra sling isn't particularly useful on a full trad routes since you'll extend with a runner anyway, but on those bolt and gear routes, it's usually enough to avoid carrying runners [discretion advised, of course].

I'd buy Metolius ULs before these, but as a second set, these compliment them very well by giving slightly different sizes which can be very nice for splitters.

One final note: these are not brazed, like aliens that have had some brazing failures. If you want a solid, non-brazed stem connected to the axel for safety reasons, this is a great choice for you! Can be harder to see cam lobe contact in smallest sizes, though.
DMM 4CU redesign
Review by: gmac, 2006-11-14
Best cams that I own ( I also have WC, Metolius ), they feel the most comfortable in the hands, trigger bar is as close to perfect as I have seen. They are light, easy to place, all sizes have the same strength rating, what more could you want. I know some people are very loyal to Camalots, I think people will feel the same way about these. Awesome!