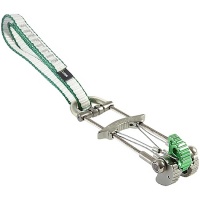 Manufacturer:
DMM



This item may be available at:
Description
DMM 3CUs have a number of features that set them apart from other small-crack protection devices. Each piece is clearly color-coded, from cam lobes to trigger bars to slings. Extendable slings save you quickdraws. Each piece is rated to 14kn, down to the smallest size.
From gearexpress.com:
Available in a range of unmistakable, color-coded, clearly marked sizes, DMM's new three cam units feel so light in the hand it's hard to believe how incredibly strong they really are. A reduced span across the spindle means they can be placed in the tiniest of pockets and are ideally suited to other awkward placements. 3CUs work especially well because of their tendency to always seat in the right direction when loaded. The smooth, efficient trigger action means you can get them in quickly, resulting in a fast and efficient placement - essential when time saved on a route is critical. The triggers on all devices are drilled with retrieval holes which can be threaded with cord to extract the cam from the most awkward or deepest of placements. We've also added both inboard and. outboard finger grips to them allowing even more placement options. All DMM camming devices have strength incorporated into their design. Being engineered using CNC technology DMM machines the cams from solid stock. With sizes .5, .75, 1, 1.25, 1.5 and 1.75 available and each fitted with a light, easy clipping, 12mm double looped dyneema sling, the 3CU is versatile range that offers high performance and peace of mind. All DMM camming devices have passive capabilities.
11 Reviews

Write your own Review


Read all 11 reviews