Aliens
popular
Item Details
|
Reviews
(
52
)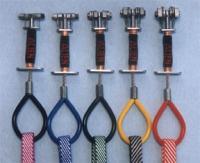 Description
Colorado Custom Hardware might not be a household name, but their flagship product, Aliens, has legions of thin-crack and aid-climbing supporters. A patented internal spring mechanism is responsible for the "smooth like butter" action and narrow width, which means they can be placed in pockets and slots no other camming device will fit. Sizes A1-A8.

Hybrid aliens are camming units designed for use in flaring placements such as piton scars. They use two different size pairs of cams on one axle. Sizes AH1-AH4.

Here are some reasons why they work so well:

Internal Cam Springs allow a much more compact camming unit. With this system Aliens fit into smaller placements and have more cam surface area per width than other units. US Patent # 4,923,160. Control Sheath operation allows true flexibility of the main cable stem and solid cam control. Cam walk and placement change are minimised. Deeper placements are possible,but don't place the stem over sharp edges or so that permanent bending or damage will occur when the unit is weighted! US Patent ## 4,832,281.

Secure grip and control. Easy clipping and racking are provided by the cable loop. Aliens are avaiulable with or without a sewn Spectra runner.

Axles are machined from hardened stainless steel which is corrosion proof and resists flex. Also the Internal Spring system allows the axle length to be minimised, which results in a short and virtually unbendable axle.

Cams are machined from 6061-T6 Aluminium extrusions, a grippy alloy with teeth.

Moderate cam angle of 16 degrees for greater holding power.

Sturdy aluminium handle and top puller are crimped to woven stainless tubular sheath material. A tubular nylon sock provides abrasion resistance. The sheath can be taped, but don't tape tightly or it will cause drag in the operation.

Quality connections. The main cable is individually silver brazed 10mm deep to thestainless cable eye fitting. Nicopress copper cable fittings are used for the swaged connections.

Quality control. All machined parts are manufactured in-house with modern computer numeric controlled equipment. This ensures complete control of the manufacturing process from start top finish, eliminating possible errors from outside contractors.

UIAA and CE tested and approved.
52 Reviews

Write your own Review


Read all 52 reviews