Camalots
popular
Item Details
|
Reviews
(
51
)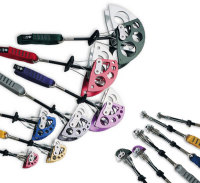 Description
Camalots earned their place on most racks because the brilliant double-axle design allows for a greater expansion range so each piece will fit a broader range of cracks. Camalots can also be placed in the umbrella position as a passive piece. A resilient nylon sheath protects the strong stainless steel stem. The large color-coded cams offer lots of bite and are well suited to all types of rock. Individually tested. Sizes 1-5 (See also Micro Camalots).
Price range is $49.95 - $112.50, depending on size.
51 Reviews

Write your own Review


Read all 51 reviews
Love These Guys!
Review by: secander, 2011-05-20
Amazing cams! I never feel better than when I'm placing a #1, it just feels so secure!
good down to .75
Review by: ter_bee, 2006-11-13
I love my c4s #1 through #4, but am not as happy with the smaller dudes. don't buy the 0.5.
Review
Review by: saxfiend, 2006-05-31
I have just three of these to go along with my full rack of Metolius TCU/FCU cams. Camalots are very nice, though I wouldn't consider them superior in any noticeable way to the Metolius pieces. Just another good alternative to have in the toolbox.
Review
Review by: javaguy, 2006-04-20
I have one camalot. The yellow one. And I'am not going to buy more. After just a couple of months my camalot was full with rust. I know that it's just on the surface, but anyway, it's scary. The steam is hidden inside a plastic tube. Why is that? It makes it impossible to inspect the steam. Camalots are overrated. There are many camming devices that are far better out there. Camalots just sells because it's "Made in the USA"
Review
Review by: dr_fil_good, 2005-08-10
Great pro. 99% bomber. Hassle free 99% of the time when cleaning a pitch.

The only hassle is when they 'walk' and you have to dig for them on a second. I've had one 'walk' out of a placement and then slide a -9.8 m.s.s towards my next placement - scaring the willies out of my mate on belay!