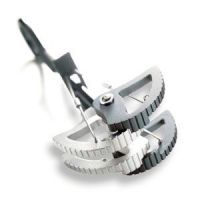 Manufacturer:
Cassin



This item may be available at:
Description
- New camming device line
- Versatile and very resistant
- Super light line
- Very good placements
- Passive resistance cams
- 10 sizes available
- 10 colours for easy identification
1 Review
Review
Review by: robbovius, 2004-09-16
Lacking a cam for off-fist sizes, I thought I'd try the Cassin Cancam #5 (4.5 inch) since the price was very appealing - $34.95 from Acme Climbing, $40 deliverd by UPS.

Upon inspection it's easy to see where Cassin took measures to meet the price point (for example, the finish on the cams themselves isn't as nice as the anodizing and polishing of say, a Camalot, or Metolius) but generally the cam is of good quality, and doesn't look especially cheap. there are large lightening holes machined into the cams (as cassin claims this model line is optimised for lightness) which look nice, and certainly do reduce the weight of the cam noticably. This #5 Cancam is much lighter than a #4 camalot, and feels slightly lighter to my hand as my #3 Chouinard Camalot. It is a bit easier to place than my #3 (old-style, U-stem) camalot, because the cam head itself is lighter.

the full expansion rage tends to be less than other similar-design cams (Trango Flex, Rock Empire Flex), But since on placement you're looking for a 30-70% retraction anyway, the absolute limits tend not to matter so much. There are substantial machined cam stops so that the unit can be placed passively.

ON placement, the generally lighter aspect of the cam head helps in orienting the cams for retaction and expansion, and even though the distance between the outer cams seems narrow (or, narrow compared to a #4 camalot, which the #5 Cancam most closely resembles size-wise) it seems to not be particularly prone to walking, even with a 40-60 degree deflection of the stem. Set in a textbook placement, it is very stable, and the toothed cam edges take a nice bite into fractured granite.

I am generally pleased with this cam and it's function, and have no real complaints. They function well, and the price is very attractive.