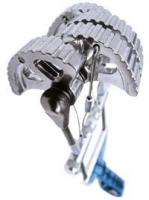 Manufacturer:
Metolius



This item may be available at:
Description
No other camming device on the planet can offer you this kind of holding power for the varying rock types you're likely to encounter. With 35% greater surface area than conventional units, what you get is increased security - and lots of it!

The innovative Fat Cams increase holding power with fat, custom-milled solid blocks of 6061 T-6 aluminum. With all that extra surface are contacting the rock, you'll see a major increase in holding power and reduce the chances of "tracking" you cam through the rock.

We've had an overwhelmingly positive response to the Fat Cam's ease of placement in any rock type (hard or soft). Their wide stable nature makes them very easy to place and keeps them incredibly secure. We've found them to be an ideal cam for beginning climbers and experts alike.

9 Reviews

Write your own Review


Read all 9 reviews