Link Cam 0.5
Item Details
|
Reviews
(
22
)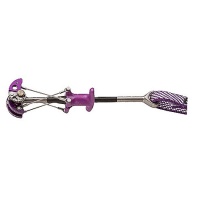 Description
Free Shipping. Omega Pacific Link Cam 0.5 Fall 2009 Specifications for the Link Cam .5 by Omega Pacific: Range: 13.5-35.0 mm / .53 - 1.38 inches Strength: 8 kN Weight: 95 grams / 3.35 oz Length: 164 mm / 6.47 inches Width: 46 mm / 1.81 inches
22 Reviews

Write your own Review


Read all 22 reviews
They've saved my bacon a couple times now...
Review by: brandom, 2010-06-07
I've been building out my rack for a while; the Gold was my first cam, ever. I toyed with it for backing up anchors. Then I bought my C4 set and augmented the kit with the Green link cam. For a while I thought, hmm, did I really need those Link Cams? The C4s get placed first...

Well, some more climbing under my belt, with a few close calls, and I'm a convert. Those Omega Link Cams will *never* be leaving my rack!

Aside from the normal "holy smokes, I'm kinda pumped, and kinda fumbling" use that the links see, there are now two additional uses that have totally sold me on the brilliance of these pieces.

1) Down-leading. A surprise rain storm drove my partner and I off the second pitch of a climb. Of course, down-climbing in the rain is not all that nice. Solution? Gold Link in hand, placing it in near anything that will take it. Result? Moving down the climb with confidence! No fumbling for a new cam every other move; just pull that high piece and slam it in low.

2) "Gear runout". Missed a belay spot and ran out of gear. High on the climb, with a Gold C4 at my feet and nothing on my rack that'll fit in the cracks running the next 35 feet. Awkward nut placements off to the side can't get good visual positive, can't build an anchor, time running out. Out comes the panic piece - the Gold Link. Slam it into that awkward nut-rejecting crack, downclimb to the C4, yank out the link, seat it in next to that C4, sliding X, done. Lower. Get gear. Send.

The Green Link has seen plenty of use too, especially towards the end of a climb where my C4s are gone and I'm pumped.

Now if only there was a link in the 3-5" range! Heck it wouldn't need 3 links, I'd be quiet happy with 2 if it meant it covered the range of the 3+4 C4!

Great product.

-Ben
Great cam
Review by: Tradstheway, 2009-07-18
I purchased a #2, this is my favorite cam. its expansion range is amazing, highly reccomend the. I cant wait to get more!
effortless trad.
Review by: suprasoup, 2009-06-28
I own doubles of all four sizes and I gotta say they are some of the best cams I've ever placed. The two smallest sizes (purple and green) are probably my most used pieces. I liked them so much that they've replaced my C4's on my single rack.
Absolutely amazing!
Review by: scottydo, 2008-09-15
I really used these for the first time and they were absolutely phenomenal! They're great for those spots that are in between sizes and they practically fill the crack and hold solid! I can't say enough how awesome I think these things are. Now I know why some of my climbing buddies have 3 of each size. I will definitely be getting more of these in the future.
Loyal convert
Review by: gothcopter, 2008-05-27
I was skeptical about the Link Cam for a long while. I finally got the #2 on sale, and it's the first piece of new gear in years that I've really gotten excited about.

It's a well-built piece of equipment, and the radical expansion range makes it very versatile and useful. I no longer leave the ground without it (except for sport routes). I have yet to fall on it, but I have every confidence it will perform as expected.

I do wish there was a greater variety in sizes. The #1 size is pretty useless to me. I'd rather see them make an "offwidth killer" -- maybe something that would cover from a #3 - #5 Camalot. That would be freakin' awesome.