MaxCams™
Item Details
|
Reviews
(
14
)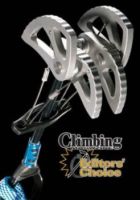 Manufacturer:
Trango



This item may be available at:
Description
Trango MaxCams Spring 2009 The MaxCams by Trango is the ultimate blend of simplicity, strength, expansion range and weight. This has been achieved by floating the axles of the outer pair of cams on the inner pair. As the lobes are retracted, the axles of the outer cams move inward, increasing their range.in.Perfection is achieved, not when there is nothing more to add, but when there is nothing left to take away.in.These insightful words by the French explorer, Antoine de Saint-Exupery, praising the simple perfection of his airplane, speak eloquently to the thinking behind the new MaxCams. The extraordinary 2:1 expansion range is achieved, not though complex and weighty engineering, but through out-of-the-box thinking and focused design. The result is a set of simple and lightweight cams that will feel at home in your hands from the first trigger pull.All MaxCams are carefully crafted in the United States at manufacturing facilities rated to ISO 9002 to assure the highest quality, safety and consistency.
14 Reviews

Write your own Review


Read all 14 reviews
max cam!
Review by: possum2082, 2009-12-17
i've been climbing on a set of these (with my c4s) for about a year now. i lead 5.8 trad. the action is smooth. i love the doubled supertape. expansion beats that of bd. the colors and numbers are bd labeled making mixing with your c4s perfect. they're pretty light, too.

the only con i see so far is the placement. it can't be that deep of a placement and sometimes, on really sharp dihedrals, you might not be able to get the optimum angle. This is all described wonderfully on tango's website with videos from malcolm.
Problem with walking
Review by: JAB, 2008-10-09
I have been using 3 of the smaller max cams for 2 years, and have noticed that they have a bad tendency to walk. This led to one walking into a crack and getting so stuck I couldn't remove it. The sling on the cam should always be extended, and then clipped to another sling or a quickdraw.

They are otherwise well made and very easy to handle. I have taken a couple of hard falls on them with no problems.
Review
Review by: markguycan, 2006-08-31
Ok, so I'm a die hard fan of camalots. A local retailer tempted me w/ a really good deal on the Maxcam. They look bomber enough so I bought the blue one and was thinking of buying more. I've heard they have a greater tendency to "walk" Can anybody refute or substantiate this?
Review
Review by: vegastradguy, 2006-07-30
I wandered into Desert Rock sports about a week before my Yosemite trip intent on coughing up the dough for a set of C4's, but they were out! So, instead, I talked myself into a full set of the Maxcams to serve as my secondary set of cams.
After using them for a week in the Valley and once or twice in Red Rock and reading reviews of them regarding my concerns, I'm shelving them for the time being. These cams are a great idea- the extended range is fabulous. One of the perks is their ability to fit in the tiny gap between camalot sizes, not to mention their expansion range. They have some serious drawbacks, though. First, these are NOT a beginners cam. Let a new trad leader use these, and you'll lose them quickly. These cams HAVE to be placed, not slid in as the editorial review and sixleggedinsect noted. The biggest problem when they get pushed in is their tendency to pop open on the small lobe size, rendering them completely useless and somewhat locked into their placement (i almost lost the green one twice in Yosemite- only perserverance and luck saved it from the granite cracks!). They also require careful slinging and manuevering around, because the slightest touch and they can pop open. The best placements are bottlenecks for sure. Overall, while I like the cams and feel comfortable using them, most of my partners hate them and are uncomfortable using them given the reasons above (these include both novices and experienced leaders). This means, of course, that I really cannot use them because if my partners dont feel comfortable with 'em, there's no point in bringing them along. So, as a result, i ended up wasting the dough for these because I just bought the set of C4's I wanted in the first place (at least I got them on sale!).....

One note, though. As a fast and light cam, these may shine brighter than most. The set of these plus half a set of stoppers on a speed ascent affords more options than you'd get with a similar brand of cam, and for competent climbers this could mean more confidence when simul-climbing and/or moving quickly over easy terrain. I'll bring them out this fall again to test this theory and get back to you on it.
Review
Review by: corpse, 2006-06-22
I nervously bought a full set of MaxCams for a trip to indian creek (well, minus the #1's, but I got those now) - I had no idea how they'd perform, but wow... I love these things! They handle really nice - and every placement in the sandstone made me feel like a million bucks.. I now have 11 MaxCams...