Offset Friends
Item Details
|
Reviews
(
3
)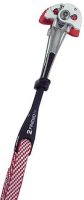 Description
When you think about it, very few cracks are perfectly parallel, and secure placements are best made in pockets, pin scars or above constrictions - where there is a flare in the crack. These hybrid, OFFSET FRIENDS are the answer & allow you to make secure placements in flared cracks with each pair of cams at their midpoint, proving better stability and increased holding power. Each OFFSET combines cam lobes in ascending sizes - 1/1.5 , 1.5/2 and so on. Due to the overlapping expansion range of each combined pair of cams they also work perfectly well in parallel cracks! If you need to double up on cams or are contemplating an aid line, these are a smart addition to your rack.
3 Reviews
Review
Review by: barefooter, 2005-01-09
I've got the Red and the Yellow of these and I love them. I climb mostly at Joshua Tree and I use or could use these the majority of every route I go up there. They are obviously not meant for parallel cracks but for bottelneck type placments hence the offset. They are fairly wide and seem to be very stable and don't want to walk. If you're having trouble locating Hybrid Aliens you may want to give these a shot. I'm glad I did.
Review
Review by: lucas_timmer, 2005-01-04
Even thought the technical cams of WC are better, these are good as well.I've had enough crags where my WC Offset cam size 1.5 places bomber pro.But it's true that the bigger sizes aren't very bomber in big parallel cracks.I't would be a good expension for your existing rack.
Review
Review by: braon, 2004-03-06
These things don't work nearly as well as normal cams in parallel cracks. If the crack is flaring, they're nice to have though. I wouldn't recommend these as a first, or even a second set of cams. If you've got extra money or climb lots of flaring stuff, they're not bad to have.