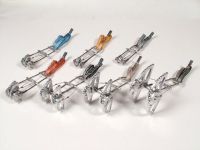 Manufacturer:
Rock Empire



This item may be available at:
2 Reviews
Not my crux piece for sure
Review by: needlzdos, 2007-06-21
I have the two largest size Pulsars. I bought them to finish out my set of Durangos (same company, flexicams). The two largest Pulsars tend to walk pretty badly. If you have pretty much any rope drag, they'll walk and have a nasty tendency to invert. Inverted cams DO NOT hold falls. I place these as a last resort in wide stuff. Not sure how the smaller sizes work, but I'd rather have 1 camalot, metolius, anything rather than the two largest Pulsars below me on a runout.

I've fallen on them and they hold just fine. They are cheap. Don't get me wrong, they'll work just fine, but the craftsman ship is somewhat lacking and they need more skill to place effectively.

Cons: The trigger is crappy, the action is jerky, the lobes can easily be inverted, they walk, the lopes stick sometimes.

Pros: Cheap, passed inspection, lighweight
Sweet deal
Review by: Einstein, 2007-06-18
The trigger action on these cams is not all that smooth. The wires sometimes have to be straightened out. But wait: they are just as safe as any other cam. And they're light (this is important). Did you notice they're really freakin cheap? Climbers on a budget will appreciate Rock Empire Pulsar cams.