Ranger Finder 4-Cam Set
Item Details
|
Reviews
(
2
)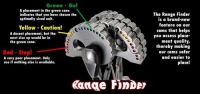 Manufacturer:
Metolius



This item may be available at:
Description
This boxed set (available in 1-4 or 5-8) brings 4 of Metolius Ranger-Finder in a neat package that is 10% off the price if you bought these 4 cams seperately. Metolius' Ranger Finders feature a recessed "dot" system, where the dots range from Green, indicating a good placement if they are in contact with the rock to yellow (marginal placement) to red (DANGER! Will Robinson, DANGER!) Also includes a small bottle of Cam Lube.
2 Reviews
Review
Review by: mgoodro, 2005-05-09
Excellent camming devices. I prefer the twin cable design to the single cable release, it feels more natural, but that's all personal preference. As a set this is a great way to blow an REI dividend or Discover Cash Back Bonus. With a 20% off coupon these are nearly 30% off individual price. The bonus bottle of lube is a nice touch, but it would be nice to get a bottle of their cam cleaner as well. While we're wishing, I'd like to see a set with sizes 3-6 for doubling up on the more common units, as well as a set that includes sizes above 8.
Review
Review by: clmbr121, 2005-02-18
Great value. Save 10% (and still earn your dividend). Smooth action, easy placement.