Rigid Cam
Item Details
|
Reviews
(
3
)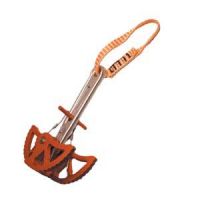 Description
Simple, light, and strong. The Rigid Cam is a solid stem four cam unit complete with all the essentials: milled cam stops, smooth action, and a single nylon sling. Each cam is color coded for placing convenience. Cam specs: Size/Color/Range/Strength 2.0 / Yellow / 30.0-45.0mm / 10kN 2.5 / Purple / 34.0-55.0mm / 14kN 3.0 / Blue / 43.0-69.0mm / 14kN 3.5 / Grey / 53.0-87.0mm / 14kN 4.0 / Orange / 70.0-111.0mm / 14kN 5.0 / Black / 90.0-140.0mm / 14kN
3 Reviews
actually holding up!
Review by: evanwish, 2008-03-25
I got one of these a year ago and use it all the time. the #4 is much more narrow than the BD equivelent making it a little less stable, and the ridged stem limits the placement oppertunities but supprizingly for such a cheep cam it's holding up and is much more smooth than my BD cams!!

Review
Review by: nanoking, 2006-08-30
I have touched one. I have used one. They come in larger sizes than forged friends. They are light and cheap and work great.
Review
Review by: halcyon, 2005-06-15
Never touched one.. looks like a shameless ripoff of a forged friend to me. The friends are cheap enough, time tested, and origional. Go with them.