Robot Cams
popular
Item Details
|
Reviews
(
30
)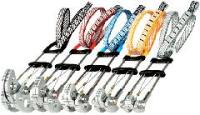 Manufacturer:
Rock Empire



This item may be available at:
Description
From gearexpress.com
All of these cams have surpassed the rigorous demands of The C.E. and U.I.A.A. safety standards in Germany. This set of 5 double-stem cams fit a size range from 20mm (.78") to 91mm (3.58") and now feature integral cam stops and new Spectra double length slings.
The Rock Empire Robot camming devices are composed of more than thirty pieces.
The individual cam segments are extruded from aluminum alloy into a profiled bar-stock. This is then further heat-treated and refined to gain the optimum balance between strength and hardness. The bar-stock is then cut into the required thicknessí for the cam size and then milled and drilled. Accuracy is extremely important during this process to achieve the correct geometry resulting in the faultless operation of the Flex and Robot. Grinding and polishing gives a smooth and glossy surface to the segments.
The shafts are turned from steel alloys. The most important process is a heat treatment in a computer-controlled furnace with gas atmosphere.
Machined axle-heads connect the mechanical and flexible parts of the cam. This part carries all the impact force when catching a fall and is produced with special care. It is ground and polished after it has been turned, milled and drilled. The axle-head is then calibrated again. Finally the axle-head is pressed to the cable loop under a pressure of 30 tons and all parts are assembled together.
30 Reviews

Write your own Review


Read all 30 reviews