Ultralight Power Cam
popular
Item Details
|
Reviews
(
4
)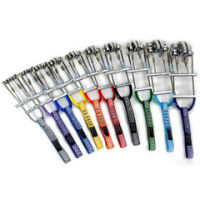 Manufacturer:
Metolius



This item may be available at:
Description
The all-around workhorse of the Metolius line, Power Cams are at home on any type of rock, from the big walls of Squamish granite to the desert towers of Utah Sandstone, from mountainous Rockies limestone to super-hard Gunks quartzite. Theyre also perfect whether youre free or aid climbing, high in the mountains or at a roadside crag. With our new Range Finder feature sizes 2 and up giving you instant placement feedback, they are easier and safer to place than ever Extensive testing in real rock has convinced us to design Power Cams to maximize holding power. We achieve greater holding power by reducing the cam angle slightly so the cam lobes push out harder against the walls of the placement. Weve also widened the faces of the cam lobes to get more grip and to spread the force of a fall over a larger area.
4 Reviews
Solid, Light
Review by: psprings, 2010-06-18
Incredibly well built cams, just as usual for metolius. These things grip in rock much better than other cams.

Contrary to what some people say, these things are great in the large sizes. When you compare these, size for size with other brands, it's ridiculous how much lighter these are. Easy to place too.

I've fallen on my ULs and have not had any "bending" that wmfork is talking about, and I've been using them for 3 years.

I love these things... their so light you can carry 1.5 times these cams compared to BD... I take that many more pieces on a route anyday!
Should not have switched to dynemma sling
Review by: wmfork, 2008-05-18
This is also an issue for the ultralight tcu, but much more so for the power cam. The nylon sling of the older power cam folds over the cable, creating a larger surface to distribute force. With the new skinny single loop dynemma sling, the cable (and the rest of the U frame) has a much higher tendency of getting bent out of shape under even a moderate fall. I bet Metolius knows this full well (just as it knows the rangefinder feature is marked to get cams stuck in crack). Wish I had spent my money on DMM 4CUs instead.
ULPC
Review by: holyhell, 2007-04-24
most people i know build there rack off of BD cams and add some metolious cams but i did it the other way around i have a lighter rack with the benefits of both companies
Review
Review by: dingus, 2006-01-08
[size=12][b]Full Disclosure: The company that manufactured this equipment provided it free of charge to RC.com and RC.com then provided it as compensation to the reviewer for his or her review. This company does not currently advertise on RC.com.[/b]

Did you ever have a love affair with a piece of hardware? Wait a minute, you're reading a gear review. Of COURSE you've had a love affair with a piece of hardware! What was I thinking? We always remember that first affair too, don't we?

I acquired my first Metolius TCUs almost 20 years ago. Up to that time rigid stem Friends were pretty much the only game in town. The TCU was aimed squarely at the niche where Friends fared poorly, small cracks and horizontals. As soon as I saw them, I had to have them.

OMG, what a huge difference they made! Strong, compact, versatile, the 4 smallest units found a home on my rack immediately. And they stayed there. Other small pro came and went, but when headed up thin cracks I wanted those Metolius TCUs. I'd sneak em onto my bud's rack when he wasn't looking. He was a Wired Bliss man and sorta fickle about it, so I had to be sneaky.

You have to go back to the early 80's; Smith Rock, Oregon country, prior to the sport climbing revolution, which was just getting started. Coursing full grown from an artesian spring, the Metolius River taps the deep aquifers of the Cascade Range and flows past the tiny village of Camp Sherman. That's where Doug Phillips lived.

Doug invented Sliders and started Metolius working out of his two-bay garage. He hired and taught Steve Byrne to work with silver soldering. Friends hit the market big time right about then and everyone was looking for cams that would fill the gap below the #1 Friend.

From their collaboration the TCU was born, a stable 3-cam, U-shaped cable stem unit that would revolutionize small crack climbing protection in the same way the Friend did for larger cracks. I bought my first orange TCU in 85 or 86. That very same orange TCU is still on my back up rack as I type these words.

This year Metolius introduces their new Ultralight series; TCUs, Power and Fat Ultralights. I have been actively field testing them for the past couple of months. If I could summarize my findings with one work, it would have to be SWEET.[/size]

[img]http://photos.rockclimbing.com/photos//673/67388.jpg[/img]

[size=12]Let's establish this: I'm no engineer, nor do I evaluate climbing gear for a living. See the professionals for such tech data. Me? I'm a climber and a writer, and this review is written with inherent bias. I like these cams a lot, no, I love them and I would like to tell you why.

Feel - when you pick up and hold a TCU or Power Cam, it just seems to fall right into your hand. It is solidly built, with no slop in the design or the manufacture. Pull the trigger; its buttery smooth and offers very tight control over the individual cams. The cam lobes rotate as if they sported di-lithium crystals in the bearings.

Durability – might as well be a trademark of Metolius hardware in general! Face it, their stuff is built to last. Their cams have proven themselves time and again in the field, on the racks, over the years, over and over. The design works, the materials hold up. Trigger wires, the bane of many a contender, just seem to hold up with minimal or no maintenance at all. Aid, free, bounce testing, aggressive cleaning, stuffed into the bottom of a pack; they hold up to the abuse.

Utility – work horse pieces. Many a trad rack is formed on a backbone of TCUs and Power or Fat Cams. They offer superior holding power and excellent expansion ranges. They're not so long as to dangle at your knees and not so short they are overly difficult to clean. Across the models they work in most kinds of rock.

I love TCUs for pin scars for example, the way the center cam is free to rotate. I can remember individual cam placements where a Metolius is the only piece that will work. They're like old buddies, when they meet up, placement and cam!

So the Ultralights? All that, and less. They should consider a tag line for the upcoming Metolius Superbowl commercials:

The Ultralights are ultra light. They may be the lightest FULL RACK of cams on the market. Piece for piece, they are as strong as any competitor and as light, or lighter. When you pick one up, it feels like your hand actually gets LIGHTER. I know, I'm getting carried away, but go pick one up, you'll see.

Some modern cams surrender weight by shortening the length of the cam. Metolius tried this in some prototypes, but field tests confirmed suspicions. Really short cams are hard to place and even harder to clean, especially in the small sizes. The Ultralights are the same length as their predecessors.

Metolius reengineered the axle design, incorporating what they call DAT, Direct Axle Technology. Gone are the heavier (and wider) axle end-caps of the older design. Instead, the cable stem is attached directly through holes in the axle. Especially in the small sizes, the end caps of the old design could get in the way, cause the piece to bottom out in shallow placements, inhibit rotation or even help the cams to walk, or not engage at all.[/size]

[img]http://photos.rockclimbing.com/photos//673/67389.jpg[/img]

[i]DAT in all its glorious, vivid detail. [/i]

[size=12]DAT eliminates that bulk. You can see the cams better, and there is less restriction in tight placements. Other features include the Range Finder color-coded dots. At first annoying to this old schooler as a marketing ploy, I think they're a really cool reminder of the optimal placement range. I can use all the reminders I can lay my mind on these days.

So how does all this translate to the rock? Well, I have the lightest full-service rack I have ever carried in my career. I can deploy about 12 cams, with individual biners, for about the same weight as 8 in the past, or even 8 of some current competitors. With 200' foot ropes and pitches increasingly the norm, larger racks are often a modern requirement. It's something we used to dream about 10 years ago – wouldn't it be great if… well, it is great.

Angus and I climbed quite a bit with them during our dry late fall; Yosemite, some first ascents up Sonora Pass way, volcanic column cracks, etc. Ultralights place with the same solid feel as their predecessors. They give you the confidence to swim for the next placement. Angus summed it up as we compared notes for that weekend's trip up Arrowhead Arête:

"Dingus? I got the rope and the rack. You bring those Ultralights Bro!"

My love affair is still going strong after 20 years, for my partner, and for my pro. Metolius Ultralights are SWEET. [/size]