DMM Torque Nut
Item Details
|
Reviews
(
1
)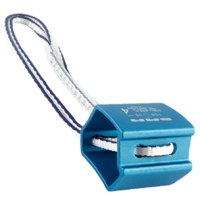 Manufacturer:
DMM



Available now at:
Description
As the name suggests, these cunningly sized and shaped nuts work well in standard placements but also have and efficient camming system. Just four sizes cover a very large size range. The colour-coded double dyneema sling is protected on the top by a large countersunk groove and works in a similar fashion to the slings on our cams. This unique refinement makes racking the units much easier and allows you to climb less encumbered.

1 Review
Great Hex
Review by: eddietheteddie, 2011-05-02
Unlike most hexes I actually use these. I ordered a set hoping the radical shape, good range, and double slings would make for a nice backup for my cams. The first time I used lead with them I use 3 of the 4. The slings could be a bit longer, but that might be nit picking. A little pricey also.