Tri Cam
popular
Item Details
|
Reviews
(
67
)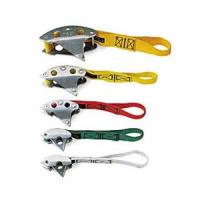 Manufacturer:
CAMP USA



This item may be available at:
Description
CAMP Tri Cams are one of the most versatile pieces of pro in existence. Tri Cams consist of a sling and metallic casing that provide three points of contact2 on the spine of the metal casing, and a sharp single point in front. This tripod configuration offers remarkable strength and stability in most types of placementparallel cracks, flares, horizontal cracks, holes, and pocketswhen the sling pulls on the top of the Tri Cam to force camming. Available in 8 sizes check options pull down menu for availability.
67 Reviews

Write your own Review


Read all 67 reviews
Who needs nuts
Review by: KCN, 2010-06-27
I have 1 black 2 pink and 2 red and I almost never pull a nut off my rack until they are gone or if I need a tiny nut of course I slot em in passive most of the time its quicker and it seems like they still cam into the sides of the constriction they have great range so if you pull one off your rack in the neighborhood of the crack size it will fit passive or cammed indispensable piece of gear I don't leave the ground without them
Hard to live without
Review by: microbarn, 2007-10-26
The pink tricam is by far my favorite piece to place. I wish I had triples to carry on every lead. The three smallest tricams (pink, red, and brown) are what I carry. They feel extremely secure in pockets, horizontals, or vertical cracks. They place best when a small rigid can secure their point in passive or active mode.

These pieces differentiate themselves from other protection in horizontals. The sling on the tricam is a little floppy. This makes it difficult to place one handed, but you can fix this by adding a plastic strip from a milk jug if you like. Due to the floppy material the tricams will be able to come away from any catch without damage to the stem that a cam might acquire when kinked.

I would easily recommend these to others building a rack.
Tricams versus cams
Review by: tichy, 2007-07-09
I've been using Tricams on limestone, granite and gneiss. My level is not too high, leading just about 5.9. It took me considerable little time to learn how to place them solidly and how to choose right size for the job and now I have used them in such extend that I find it very odd to favor cams at the level of climbs I do. Tricams are light, they have extremely wide range, they do not walk out or in, they fit in shallow and narrow pockets, they do not get stuck and they do not tangle to each other on the critical moment on your rack. I use them extensively in vertical lines and very seldom see places where they do not fit and even then mostly because the line is too narrow and field for nuts. They are worth of every cent.
One of the few fives...
Review by: ja1484, 2007-06-28
This is one of the few pieces of gear I'd give a 5 to, as I consider them essentially perfect. You'd be amazed the places they fit, and you'd be amazed how stubbornly they hold there.

I typically use the smallest two sizes the most (pink and red), but brown and purple see some light use as well. I don't care for the larger sizes - they tend to have stability issues - but the smaller units are absolutely awesome and should be on every trad rack.

Work great in cracks, bottlenecks, pockets, and especially shine in horizontals, where there's a lip at the edge of the crack or pocket. Often, it's too funky in there for a cam, and there are no constrictions for a nut. TriCam to the rescue! Just pop 'em in nose down, give a stiff yank to set 'em in place, and he'll hold on for any whipper you care to throw (in the direction of pull, of course :)

Must-haves. 5 out of 5.
tricams
Review by: psprings, 2007-02-13
Like everyone else, I love the pink and red tricams! They just protect so many different situations that are normal or weird.