Previous
Talon Hook
Item Details
|
Reviews
(
3
)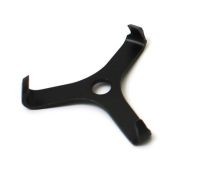 Description
This amazing hooking option is suited for big wallers and those bolting on lead. The Talonís dual-base design provides exceptional stability. Since the rock will often break under pressure of a hook before the hook pops, itís important to maximize hook-to-rock contact area. Each blade has a different dimension, offering hook placements from bat-hook size to half-inch.
3 Reviews
Very stable
Review by: hairyapeman, 2007-06-11
I have used this for many others purposes then what it is used for. Great and very stable when you need it. Makes the stressful times not so bad!
Review
Review by: adamtd, 2005-03-05
I love this hook because it gives you variety all in teh same piece. It is also extremely stable, so if I have to top step, this is what I like to do it with. It's size does limit it to use on walls or convex structures.
Review
Review by: coylec, 2004-06-13
Three hooks for the price of one. I'd rather been on a talon than anyother hook that size. The heads not being used provide extra stablity.