Alloy Offsets
Item Details
|
Reviews
(
2
)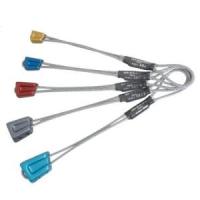 Manufacturer:
DMM



This item may be available at:
Description
Thanks to their unique shape, DMM Alloy Offsets fit securely in flaring cracks where other forms of protection would be hard-pressed to hold your chalk bag let alone handle a big whipper. The anodized aluminum allows quick and easy selection, so you grab the right piece when youre placing from a bad stance. Ideal for hard-to-protect trad pitches and aid routes alike, the DMM Alloy Offsets get the job done when nothing else will do.
2 Reviews
DMM alloy offsets
Review by: desertdude420, 2011-05-13
If you ever plan to do any aid climbing, especially in the desert, you NEED these nuts! They are like magic.
Heading to Canyonlands, Arches, Zion, or Yosemite? Don't bother without these!
They aren't cheap though!!!
DMM alloy offsets
Review by: co_potato, 2009-08-30
These guys are great. They fit very well in some of the big boxed out pins scars that exist in the desert. They also seem to work very well in so many granite areas where the cracks are generally flaring. i don't usually carry these on trad climbs unless I know it has a reputation for flaring placements, but they are standard on my aid rack.