Astro Nut Aid Set 1-5
Item Details
|
Reviews
(
1
)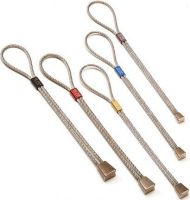 Manufacturer:
Metolius



Available now at:
Description
The Astro Nut Aid Set includes the 5 smallest Astro Nuts at a 10% savings over buying them separately. Metolius Astro Nuts have the same revolutionary concept as their Curve Nuts with the addition of a transverse taper. They are awesome in flares and pin scars.
Includes: #1, #2, #3, #4, #5
1 Review
Review
Review by: hosh, 2005-08-31
Well, I've only used these and the WC micro rocks, but I like the way these handle as small nuts. I've set and removed the smallest aid size (#1) and it cleaned easily (though I could envision it getting REALLY stuck). I like the shape...