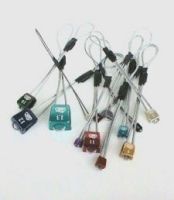 Description
The Smiley's Wedgies live on in these classically designed curved nuts. The Huevos just received Climbing Magazine's Editors Choice Award for passive pro. Extruded from 6061-T6 aircraft grade aluminum, these nuts bite like a bulldog. For superior strength and durability, ABC uses only the highest quality swaged copper sleeves covered with heat shrink tubing and galvanized steel aircraft cable. Huevos are tumbled longer than most to round the corners for ease of cleaning and general good looks. Counter-sunk holes increase cable strength and help prolong cable life. Of course, each Huevo is produced under the highest quality control and tested to 1/2 rated break strength. 13 sizes make the Huevo one of the most versatile and stable pieces of protection on the market today. ABC's many years of experience in the production of climbing equipment makes them affordable. ABC Huevos are a basic "must have" for every rack. (Long live the 'Wedgie!')
21 Reviews

Write your own Review


Read all 21 reviews
ABC Huevos
Review by: whatsupdoc, 2008-04-18
Excellent gear. They place very well and clean great too. Identical to BD stoppers but a much better value. Buy a set, you won't regret it.
Great Cheap Nuts
Review by: microbarn, 2007-10-26
These nuts are great for a standard set of nuts. They have extremely similar sizing and shape to the BD nuts, but their colors are not the same. They are easy to place, versatile, and solid. The entire set is very light and easy to carry. Each nut has two placement possibilities for extra range coverage, and this can limit the need to double up on pieces. I am extremely happy with my set. The fact that this set is about half the price of all other sets of nuts makes this an easy decision.
Review
Review by: mountainmckay, 2006-03-02
I've been using the old, coloured, Smiley's for several years and they have stood up to untold abuse. If the Huevos are anywhere near as good, buy 'em! The colours are great for those starting out leading trad - they make it very hard to not grab the next size.
Review
Review by: pjcozzi, 2005-10-24
The huevos are a solid set of "no thrills" stoppers at an affordable price. I recommend that people building a rack on a budget start with a set of these and add "fancy" stoppers over time. The color coding is nice but it does scratch it's way off in time along with the number but you should be able to tell the number just by the size in time.
Review
Review by: superbum, 2005-09-19
Exact replicas of BD Stoppers...but for a lot less cash!!!!! WAhooooo!