Pro Nuts
Item Details
|
Reviews
(
2
)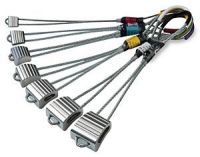 Manufacturer:
CAMP USA



This item may be available at:
Description
Slim passive protection for reliable placements in cracks ranging from 7 to 33 mm. Pro Nuts are anodized for easy identification and feature a half-moon design with curved edges for stable positioning and easy removal. Sold individually or as a set of 7.
2 Reviews
Review
Review by: lucas_timmer, 2005-01-27
They don't fit in easily and I don't find them as easy as Wallnuts to place.
Review
Review by: tallnik, 2004-10-07
Like them as much as any other nut I've used. One thing though is that they seat super solidly, and therefore have tendency to get stuck easier than, let's say BD stoppers, but if you want your nuts to stay in place better, these do a pretty good job, probably because they're ribbed.

Cheers,
Nik