Superlight Rocks Nuts
Item Details
|
Reviews
(
4
)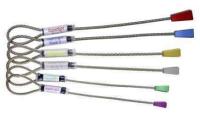 Description
Aimed at - all climbers who wish to extend their rack with some versatile light nuts. But may appeal most to big wallers, Alpinists and hardcore 'trad' climbers more desperate than anyone else to shave weight.
Placements - Superlight Rocks have a big advantage over many other small nuts in that as they are cut from 'Rock' extrusion they are ideal to be placed exactly as you would place a normal Rock,. This takes advantage of the curved sides for grip OR their side tapers make them ideal for getting extra hold in pinscars and other shallow slots.
Weight Saving - For those who want to shave lbs from their rack the Superlights weigh in at 3.22oz or 90grams for 6 instead of 5.72oz or 164 grams for a normal Rock 1 -6 a saving of around 45% - not to be sniffed at in this day and age.
Superlight Rocks are in all good retailers and are available individually as well as in a set of six.
4 Reviews