Wallnut Set 1-10
Item Details
|
Reviews
(
3
)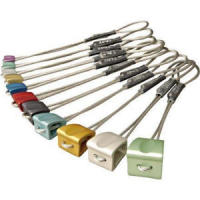 Manufacturer:
DMM



Available now at:
Description
Wallnuts have been available for almost 20 years now and have proved their popularity over and over again. Their recessed design, cavities and flared profile offer a wider range of placement possibilities. The one improvement that we have managed to make to this popular design is to make the larger sizes even lighter. This change is in line with the focus of our latest development to lighten the load on the climber without compromising strength or functionality.
3 Reviews
Great nuts.
Review by: hotgemini, 2007-08-29
I haven't measured but my gut tells me these have a bigger taper than the WC rocks, the rocks seem to seat deeper and more solid but are a bit harder to clean. These seem to not seat as deeply and are easier to clean as a result. I found them really great on a trip to Point Perpendicular (NSW, Australia. Sandstone sea-cliff) where lots of the placements involve sticking the nut into a horizontal break, then moving it across behind a constriction and then seating it, the shorter height made them go in nicer than the Rocks or Smileys.

Great nuts, light, colour-coding matches WC. More placement options than BD/Smileys/ABC huevos, stack well. Top product.
Review
Review by: dbarandiaran, 2006-08-18
a fine product. the redesigned larger shapes are better than the old cavity backed ones. i also very much enjoy that they are anodized in the same colors as wc rocks, since i have both brands in my rack. a little more difficult to clean than the typical nut, due to the scoops, which can get caught up on crystals, but this is not an unreasonable problem. the security of these nuts' ability to conform to those crystals makes the slight cleaning problem more than worth it. highly recommended.
Review
Review by: skottikus, 2005-06-13
A little more expensive than BD, they are well worth the extra $$$. LIGHT! The shape included small depressions to slide on to or around crystals and it seemed they even had a camming motion to them when properly set. Bomber. I tried these out at Seneca alongside some standard BD nuts, some HB offsets and some Metolius rocks. My partner and I kept gravitating back to the Wallnuts. Awesome.