RURP - Realized Ultimate Reality Piton
Item Details
|
Reviews
(
1
)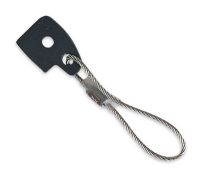 Description
The time-tested Realized Ultimate Reality Piton is over fifty years old. When all else fails on dicey aid, the RURPís keen ability to hold in incipient cracks opens up otherwise unclimbable lines due to its dual-tapered blade. The RURPtm is cut from 4130 CrMo steel and comes with a wired cable for durability.
- Time-tested
- Designed for incipient cracks
- Dual taper and hand-ground blade offers superb holding power
1 Review
Review
Review by: mkjwngoat, 2005-04-02
I would just like to express my love for this peice, sitting in a horizontal in SOFT sandstone, and didn't fail. Thus, I am not dead. Of course, not much use in anything but thin horizontal aid or stacking with other pins for aid, but still has a special place in my heart.