Spectre Ice Piton
Item Details
|
Reviews
(
1
)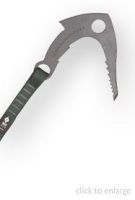 Description
Designed to work where screws canít, the Spectre conquers chandeliered ice, shallow curtains, frozen mud, cracks and uneven surfaces. Made from burly steel, the Spectreís radically curved shape keeps the load close to the wall to prevent levering. Reverse teeth keep the Spectre from walking or being pulled out as a climber moves past it. A must-have for technical ice and mixed climbers. Equipped with a sewn 16-mm sling.
1 Review
Review
Review by: sarcat, 2003-04-04
I've used them before but this is the first one I've purchased for myself. They are fairly bomber if placed right. I got mine used but never used for $5. Sweeeet!