Alpine LTW
Item Details
|
Reviews
(
2
)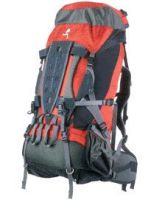 Description
Designed for mountaineering, this pack's honed features and high modularity employs unparallelled versatility for expedition to weekend adventures.
5000 cu in
2 Reviews
Word...
Review by: big_red, 2007-01-12
I have had this thing LOADED down for midwinter climbs every year up here in AK. It's super comfy with up to 94lbs in it (yes it was scaled at that). The LTW is great because it is so modular. If you don't want to take the toplid or beavertail you can just remove them and there's still a nice daisy chain under the beavertail. They don't really give you a good method of securing the ice axes if the beavertail is removed and a rope retention setup would be nice. The only real complaint I have is the flimsy clips that hold the bottom of the beavertail on...they all broke the first time I tried to remove them...but I swapped those out quick and now it's great.

Long story short, I LOVE this pack and it is going to see a LOT of use.
Review
Review by: whitefingers, 2004-05-31
Its the stuff. I wouldnt trade it for anything.