Cross Country 3.0 Pack 4302 cu in
Item Details
|
Reviews
(
1
)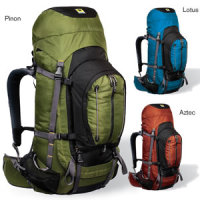 Description
A more streamlined, technical silhouette and removable daypack make the cross country an excellent choice for escaping civilization.
FEATURES
Full panel U-Zipper access to main pack body
Sleeping bag compartment with divider
Bottom compression strap for sleeping pad attachment
Shoulder lift straps for adjusting weight
Hydration reservoir pocket with drinking tube exit port
Front pocket hinged with removable day pack function
Angled side pockets with draw cord are perfect for water bottles or keeping other gear like a camera safely tucked away
V-Pull waistbelt adjustment system
1 Review
Backpack?
Review by: stoehnercd, 2007-09-19
This is not a very durable pack and its setup is not very functional. I think the 'daypack' is a waist of energy and the very tiny camelback pouch is...well, tiny. A three liter camelback just doesn't fit, I'm not sure if the two liter would fit either.