Exposure 50 Backpack - 2800-3200 cu in
Item Details
|
Reviews
(
5
)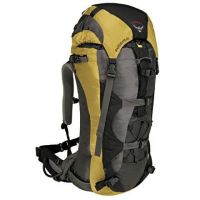 Manufacturer:
Osprey



This item may be available at:
Description
Built with ice climbing and mountaineering in mind, the Osprey Exposure 50 is a lightweight backpack with exactly the features you need. The suspension in this top-loading pack is a combination of an aluminum alloy tubing frame and a tapered framesheet that allows you to carry heavy loads without resorting to a heavy pack. The Exposure is ready for a weekend of winter adventure thanks to a crampon patch and ice tool holders that accept the new breed of leashless tools as well as conventional shafts. What really sets the Exposure apart is the heat moldable CM waistbelt that can be formed to fit your hips perfectly. There is enough suffering in the alpine world. Your pack shouldn't add to it.
5 Reviews
Second time is a charm?
Review by: omerdimsum, 2007-03-30
GOOD news: Meets my criteria of sub 4lbs., sub $200, approx 50L and technical fit; Backcountry features make it a versatile piece of gear; Decent weight (versus competing alpine/climbing backpacks); Decent fit (for climbing/hiking/traveling); Handles a lot of gear.

BAD news: Experienced durability issues (had to return to store); yellow color is subjective.

As a climber / alpinist / traveler, I research gear pretty extensively before purchasing. I thought the Osprey Exposure 50 might be a wise pick for my new alpine / climbing / travel pack, even though (at the time) there were no internet product reviews. I didn't think the lack of reviews would matter, seeing how Osprey has a great reputation, the pack's feature-to-weight ratio, and the categorization as a climbing pack.

This pack treated me well for a few cragging trips, a climbing trip to Indian Creek, UT (this 50L pack handled the biggest rack of gear a trad-climber will most likely require) plus a trip to Costa Rica.

HOWEVER, after only a few months, I experienced three different flaws (top pull-string blew out; beginning of a major hole in the bottom stitching, and tears/punctures in the bottom). I returned this pack, seeing how my previous pack (Gregory Reality) put up with years (not months) of weekly abuse. In Osprey's defense, I just purchased it again, based on the feature-to-weight ratio and Osprey's overall reputation. We shall see.
Works well
Review by: camerona91, 2007-02-09
I actually just got mine. Just looking at this pack online does not do it justice. This pack needs to be loaded and handled to be fully appreciated. Although it is relatively light weight everything seems pretty heavy duty and durable. The pack seems large for a50L as it has such good attachments on the outside for gear and the spindrift collar extends (not counted in the 50L) and you can store your rope on the top. I loaded mine down with all of my gear and it was not full (maybe I need more gear:-P). The heat molding is nice and it rides really well. Unlike my other bag it actually seems to promote good posture and my back arches a bit and makes me stand straight with it on. The internal daisy chain is small and light. The ice axe attachment is actually really solid. The rope tabs are good although they could be a little lower. I dislike that the side pockets will not fit a 1L Nalgene really (maybe a narrow nalgene). The back suspension is not removable although the hip belt and top pocket are easily removable. The top is cut out a bit so you can look up with your bag fully loaded. Helmets securely attach to the top. I will add a more extensive review when I field test it a bit more.

UPDATE: The features are all useful although it can be a bit annoying trying to figure out which strap goes where when the wind is howling. The straps are pretty long so I might trim mine down so they don't flap in the wind as much. It climbs really well. I felt solid on 55 degree alpine ice with the bag half full. It doesn't move. The gear loops are good for storing stuff for rappels. The pack seems to sit a bit above my harness which is nice although it is more comfortable without a harness. The rope straps work well. It is possible to remove a tool with the pack still attached to your bag and to get some things out of the top flap with the pack on. The helmet holder is a bit annoying-the helemt seemed to slide down and hit the back of my head a bit. Even fully loaded down the pack carried exteremely well and made my load feel lighter.
Review
Review by: gamehendge, 2006-02-16
best pack ever.
Review
Review by: bkalaska, 2006-02-16
I love this pack. It was a great crag pack this past fall and easily fit two ropes, rack, warm clothes, first aid, food and water. It carried snug and comfortable on talus approaches and exceled at bushwacking due to the thin profile. I recently went on two X-C ski trips that inspired me to write this review. The pack is so feature rich while staying clean, simple, and light. I have to pay tribute to whoever came up with the quick release buckles on the ski and axe holders. At first they looked awkward, but they are the easiest, most secure system I've used, and they work well with gloves. Osprey folks thought of it all. There are even well placed and ample tabs of reinforced fabric to keep your metal edges from abrading the pack or straps. One other comment on the ice axe holder. The attachment for the head works better for ice tools than for axes. I almost wish there was a loop in the middle, but then you couldn't put crampons on there as easily. I can't comment on the custom molding hipbelt because I found the unmolded hipbelt too damn comfy to bother taking it to a store. I have been amazed at how much weight my hips are taking every time I release the buckle and it falls on my shoulders. Amazing job. The bungees hold crampons great, and there is a hydration sleeve which I don't use, but some people like. The top pocket is the perfect size (finally), and I am a huge fan of the straightjacket compression. The pack thinned up nicely for day trips while hut skiing, and I can't wait to take it alpine climbing where I'd be happy to lead up to 5.5 with it. I have the daylight accessory pack and am confident I could go comfortably camping for a week with the added capacity it affords. I also have a Crescent 75. My spine length is on the border between medium and large. I have a medium in both packs. The hipbelt on the Exposure fits my 31 inch waist better than my medium Crescent which I have to tighten all the way. I'd recommend trying it on to be sure you get the right size for your spine, but the medium fits me great, probably better than the Crescent which I had to re bend the stays to make them longer before they bend up. I recently ripped the gear loop when a piece I had attached to it caught while I moved up. It was a lot of stress, but the way they had it stiched I didn't rip the whole loop off. They offered right away to fix it. This is a great pack from a great company, and I want to thank Osprey for getting it so right!
Review
Review by: everythingelse, 2006-01-11
great pack
very light (3 lb.)
very very narrow pack (the only thing that i have trouble getting used to)
this makes it a little project to pack it very well
but so much fun stuff you can do with it
cragging at the red, multipitch in colorado and ice climbing in the winter
i also love the custom mold removable hipbelt
and it still rides great with out the hipbelt