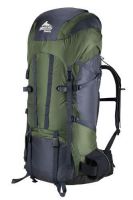 Description
For the experienced backpacker, this lightweight, no-frills workhorse is an exceptional value. We've stripped it to its essential elements so you can go long and deep without the burden of additional pack weight—or the cost of more featured models. Access through the top and a zippered sleeping bag compartment.
SUSPENSION
Auto-Cant™ harness
Adjust-A-Cant™ waistbelt
Flo-Form® II waistbelt padding
Flo-Form® II shoulder harness
Chimney ventilation channel
Floating partial framesheet
Twin 7001- T6 stays
PACK
Top access
Top pocket converts to a fanny pack
210d 'double box' HT nylon body
Shelter-Rite® bottom
Canted water bottle holder
Side mesh pocket
Hydration sleeve and port
3 Reviews
Great For Extanded Trips
Review by: lrwright, 2010-11-04
I have had this pack for several years. Was lucky enough to catch it on sale.
Pros: 1.) Spacious, I have used this back on 5+ day trips and never ran out of room. 2.) Comfort, When packed correctly this pack distributes weight evenly and allows for heavy loads without compromising comfort 3.) Durability, I have owned this pick since 05 and used it numerous times. I do the best to take care of my gear but when used correctly gear tends to take a beating. This bag is still without tear, rip or any other major defect.
Cons: 1.) This bag only has one large compartment and a small upper "brain" area. This makes quick access for items like cameras difficult. A simple solution ad on pockets for the waist belt.
Overall: Great Pack would recomend to anyone who is always needing more space or just getting into backpacking and plans to use it for years to come.
Very Comfortable with a Heavy Load
Review by: tigerlilly, 2007-04-10
I bought this for a long weekend in the Catskills in cold weather, so I would be carrying lots of warm clothing. I ended up carrying over 40lbs, including water (I'm 125lbs). The folks at Campmor were generous with their time and advice in fitting the pack to me. I liked the fact that you can buy the waistbelt separately if you need to mix sizes. The The Shasta cost more than a few of my other options, but the fit was far and away better, and worth every penny. I was more comfortable with my 40+ lbs in this pack than I was with 30lbs in my previous pack. It is also fairly light for a large pack. My only regret is that I didn't ante up for a model with more outside pockets for easy access to small things.
Review
Review by: rockmaninoff, 2004-05-14
I think this is the best pack on the market. Fits well, not too heavy, tough, has all the right features, and doesn't waste weight or space on goofy doodads. Gregory's lower pack partition is well-designed, allowing for inside storage of long items like tent poles or mattress, yet keeps sleeping bag and parka compressed without a stuff sack.