Previous
Crag Pack
Item Details
|
Reviews
(
2
)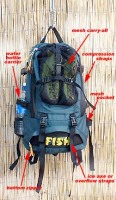 Manufacturer:
Fish



This item may be available at:
Description
Just back from climbing in Yosemite and this pack is by far my favorite crag/freeclimbing pack I've ever owned. Big enough to carry a full rack, jackets, shoes, first aid, treats and water, we found this pack to be the best size and very well thought out. The mesh compartment for holding sweaty shoes is AWESOME. Straps and padding also excellent. We dragged it up Surprise, Commitment and Nutcracker sweet and it doesn't look beat up one bit. No goofy light and torn up fabric anywhere. If you are looking for a crag pack that is just nuts awesome call Fish. If you're looking to waste money on a fashionable color or easily torn fabric look elsewhere.
2 Reviews
The Practical Crag Pack
Review by: Jbitz, 2007-06-20
Fish sell these packs on ebay every once in a while. I think I bought mine for $40. Whether you are top roping, sport or Trad this is a great day pack. It should fit the gear you need plus a lunch. If it doesn't fit inside rigging to the outside of pack is easy enough. Very durable Heavy duty design. Mesh bag for shoes, chalk bag or whatever else is a major plus. The only things I can think of that I would like to see on it is a hydration pouch, bigger side mesh bags, and a removable compartment separator for inside the pack.
Great for the money
Review by: bruce_lee, 2007-06-16
Good fabric, good design, good amount of room (careful, not a huge pack!), good suspension, decent padding. You can put your shoes in the mesh and then secure your helmet over them with the straps. The mesh bottle holders on the side are way too small.

I'm not blown away by anything, not a super high wow factor but I seem to keep using it all the time and am continually happy with it.