Alpine Attack 20
Item Details
|
Reviews
(
2
)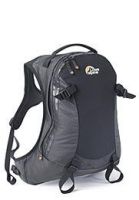 Manufacturer:
Lowe Alpine



This item may be available at:
Description
Designed specifically for unrestricted climbing on multi-pitch routes. Body expands for the approach, yet zips down to carry just shoes, windproof, energy bars and water
Wrap-around back system
Expanding body allows volume increase from 14 liters to 22 liters
Ventilated back panel with Air ZoneŽ back ventilation
Die-cut breathable padded harness designed for unrestricted arm movement
Removable 20mm web waistbelt
Hydration system compatible
Chest strap
Slim profile
Padded lifting handle
Internal zippered mesh pocket
Key attachment point
Twin ice axe attachment system (removable)
Removable gear loops on harness
Removable rope compressor on top of pack
2 Reviews
comfortable, almost perfect
Review by: helios, 2007-01-08
A very comfortable pack for multipitch climbing. Stays high on the back and out of the way of gear and chalk bag. Collapsability is very useful, but you cannot cinch the pack down tight, I'd rather have a 25 liter size pack with compression straps than the zipper compressability that this pack features. Rope compression straps were very useful in carrying the rope. Gear loops on chest were more useful than I thought they would be. Hydration port is tight, and the fabric could be more water resistant. Mine didn't come with an aluminum stay, but there is a sleave for one. I made a stay out of some old mini-blinds and it carried much better when stuffed. Would prefer either a stretch pocket on front or more loops to attach shock cord. It's a very climbing-specific pack, and I haven't used it for anything else. But what it does, it does really, really well!
Review
Review by: creemore, 2005-01-12
I purchased the Alpine attack 20 and the end of the Ice season last year and stored it till this season. I used it on sooo many WI 2-3-4 (one pitch of 5) multi-pitch this year that I can't believe this pack never existed before. !

On the approach it carries 2 tools, crampons, 2L H2O (bladder pouch), Dryloft belay jacket (when needed) , parts of the rack, food, headlamp(in little interior zip-up), FA kit, extra gloves and extra dry-fit on cold days and other little things. Half of my PMI phoenix twin/doule rope 8.1mm on the top with straps made to carry a rope, but not a thick one (like the Arcteryx RT series) and my partner that has the same pack carries the other one. I like to put on my harness and part of my rack (split between team) on at the car if we know that the bottom pitches will be soloed(most of the time i still put it all on for the hike in as the pack rides so high that it doesn't bother at all). It carries the weight so well with an aluminum stay and thick padding on the back. The cool part is the extendable section that un-zips giving surprizing space for stuffing.....once the jacket is in there I was able to re-zip-it a few times (when my hands weren't to chilled) but still works well extended.

Add a couple of waterproof zippers, two gear loops at sternum height(removable/ajustable), removable and thin hipbelt (bottom of rib cage), haul loop, abrasion patches. Also made of light weight tuff materials all over.

Then only problem: The ice tool straps are buckles that need to be re-threaded when you put the tools in and out(hard with chilled hands or mitts). I fixed the problem by replacing those straps with velcro and kevlar(bomber and light) buckle. Works like a charm.

The pack was mainly used on day long affairs(all over the Canadian Rockies north and south) and short quick days at haffner or the junkyard in Canmore. I plan on talking it on a trip to the bugaboos this summer and use it in the Bow valley on most multipitch trad. Extended with the rack in it and compressed on the route.

I use the RT 45 on Alpine overnighters or gear extensive routes.

If you get it on sale (like i did at 85$ can) you'll love it.

Like it was said before, going light & fast is about saving grams here and there to add the poundage up. Light packs, light gear, light clothing, light mentality. You'll feel lighter, move faster(less exposure to the elements), back home early, recover faster and back out the soonest. It's all linked. I read somewhere that this pack was designed with input from Mark Twight. It's pretty hard to go wrong there. I wonder what straps he cut off ? ;)