Boa Pack 2136 cu in
Item Details
|
Reviews
(
1
)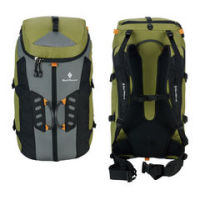 Description
Made with a day at the crag in mind, the Boas hybrid design gives you options for packing and hauling your essential climbing gear. Top loadable and strapped to your back the Boas frame-sheet, padded shoulder straps, and waist-belt keep things comfy for long approaches. For in and out of the car or between routes, the two molded handles and zipper on the front allow the Boa to be carried and packed as a duffle. A detachable rope/gear tarp and a zippered pocket for your guidebook are other features that add to making this pack a great choice for the crag.
1 Review
This bag is great except for one or two minor issues
Review by: airscape, 2010-02-02
This bag is by far the best rope bag I have used, itís comfortable and it sits nice and high to not interfere with a harness.
I really like the way it opens the full length of the pack, it makes everything easy to get out and put back, and it makes moving from one route to the next a breeze. Also once everything is in you can open the top for easy access to stuff without everything spilling out.
There are a few drawbacks though:

Itís a little too small, if they made it in a 40L or 45L it would be far better. I realize that rope bags are not generally that big, but it would be nice. The extra 10L would make it possible to add a jacket and lunch.

The chest strap is a complete piece of crap, it rides up the center of the shoulder straps until it comes to under your chin, really annoying.

If the main zip breaks in the middle of nowhere it would be a real pain.

Overall I say itís a great bag! Buy it! 4 stars.