Alpine Classic Cookset
Item Details
|
Reviews
(
6
)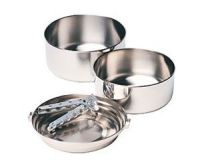 Description
MSR's Alpine Classic Cookset brings reliability, durability and lightness to a cookset that's just as at home on a big wall as it is in the remote wilderness. The set includes an Alpine 1.5- and 2-liter pot, lid, PanHandler™ and reusable nylon stuff sack. Naturally the pots nest for ease of packing. What's more, most MSR stoves fit inside the nested pots for extreme compactibility.
Weight: 26oz/733g
6 Reviews

Write your own Review


Read all 6 reviews
msr
Review by: doc24788, 2007-08-30
a little heavy but so worth the add OZ...Stainless steel..every thing eles just can't stand up to it!
Review
Review by: jstp, 2004-11-28
The classic cookset for many. A good cookset for ultimate durablilty and groups up to 3 with the bigger pot, 2 with the smaller one. The larger pot also is useful for melting snow en masse. A frying pan lid (for french toast!) and a pot gripper complete the set.
The set is a decent balance between durabilty and wieght savings, and also nest effectively if you need to take both pots. This stainless steel set holds up practically forever, but be careful not to 'burn' the metal by leaving it on stoves empty. The resulting loss of temper can cause your dinner to stick for time eternal. Not being teflon coated, the pot is better suited to the use and abuse of camping, and you can't get scorched teflon in your dinner (i'm sure its very healty to do so however).
Cleanup is always a cinch, and if your backcountry culinary masterpiece did get some smoky flavor from the burn on the bottom you can scour the steel with sand or steel wool to your hearts' content without fear of sratching anything.
The drawbacks of this set are few. A heavier bottom would prevent burning a bit more, but make the pots heavier, and they already are a bit heavy.
Cons: a bit on the hefty side, easy to 'burn' bottom of pots, and food.
Review
Review by: rockmaninoff, 2004-08-21
Durable yet relatively lightweight, these pots are the best all-around choice out there. Unchanged for years because they work. I keep my Whisperlite Internationale 600 inside when backpacking. I got rid of the lid and instead use a frying pan that actually distributes heat evenly (gotta have those perfectly cooked blueberry pancakes). If you have the means, perhaps titanium is a better choice.
Review
Review by: bigdrop, 2004-04-15
Perfect size for a two person backcountry excursion. Cleans easy. The set is nesting and I can also easily fit my MSR SimmerLite Stove w/ pump, a bottle of camp suds, a sponge, and the pot set handle inside the small pot. The lid fits both pots well and doubles as a frying pan; however the tabs used to remove the lid are thin and bend easy when packed tight. I'm wondering how many seasons they will hold up. $42.00 CND @ MEC
Review
Review by: wildtrail, 2004-03-20
Just right for two on the go. This is the set that I own. Sturdy and light and big enough to cook just about anything. The lid doubles as a fry pan. Fast and light.