Alpine Kitchen Set
Item Details
|
Reviews
(
2
)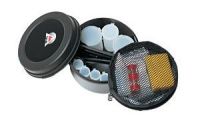 Description
For backpackers who are serious about food, the MSR Alpine Kitchen Set provides the ultimate assortment of kitchen accessories. This backcountry cooking set includes nine plastic bottles for spices and condiments, a folding spoon, spatula, and strainer, a scrub pad, cutting board, salt and pepper shakers, and three Ziplock bagsall easily stored in a nylon zip pouch and a plastic, lidded bowl. Once you get cooking, this organizer bowl doubles as a mixing or serving bowl, and fits neatly into any two liter MSR pot for quick, compact storage in your pack.
2 Reviews
Review
Review by: scubasnyder, 2004-07-09
This little sets a pretty sweet, the folding spatula is my favorite piece of the set, great with the msr not stick frying pan. Has a lot of bottles, i use mine for all sorts of spices. also the plastic container can be used to cook with the right equipment. it is better to carry this inside the alpine cookware pots. I put mine inside that instead of the plastic container, it saves more space. If any questions PM me
Review
Review by: nathanial4, 2003-04-04
Convenient storage for kitchen essentials. Can be a bit heavy if you take advantage of all the containers. Worth the money if you don't want to be creative on how to take the necessaries!