Coffee Sling - 2 Pack
Item Details
|
Reviews
(
1
)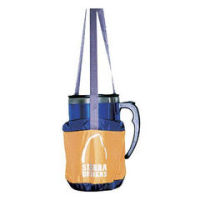 Description
The famous Sierra Designs Coffee Sling hangs from the tents gear loft loop so beverages cant be spilled. As part of their Green Effect program, Coffee Slings are now made by salvaging perfectly good pieces of tent fabric from the cutting room floors.
1 Review
Review
Review by: thespider, 2006-06-19
The Coffee sling, while not just for coffee, is a great little product for camping or climbing. When attached to the roof of the tent, sipping is made easy and spilling is made almost impossible. The webbing extends over a foot and a half and easily reaches the tent floor if needed. It is also attachable to a climbing rope or harness for an easy to cary drink sling. The top also has a cinch rope to keep your drink secured or your personals in!

Of course, if you don't want anything to drink, you can hang your personals such as a watch, pen & pad, rings, mp3 players, earrings, etc.. They pack down very small and are very light.