Alpine Stowaway Pots
Item Details
|
Reviews
(
2
)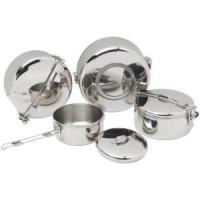 Description
Discovering certain types of stowawayslike your neighbors annoying kidamidst your pile of camping gear in the truck wouldnt be good. The MRS Alpine Stowaway Pots however, are the good kind of stowaway. The Alpine Stowaway Pots have a hinged handle that flips over the fitted lid and locks it in place, so these pots are easy to handle and easy to pack. These scratch-and dent-resistant stainless steel pots stand up to seasons of camping. Choose one size for simple meals, or a combination of different sized Alpine Stowaway Pots for long car-camping or kayaking trips.
2 Reviews
Review
Review by: nmoroder, 2004-08-15
Mine is a few years old and still looks new. I love it and use it every time I go out. The long handle that latches into the side means no more burned hands or spills. It holds my stove perfectly and protects it from harm. I couldn't be happier with this product from MSR.
Review
Review by: scubasnyder, 2004-03-01
This is a great stowaway pot, you can store stuff inside like forks salt and pepper or whatever else you have in mind. These things can take a beating, ive had mine for 4 years of abuse. I just let it in the fire once the only thing wrong with it was it turned black, but it still works great even though it looks bad. Never get another pot besides Msr.