Titan Titanium Kettle
Item Details
|
Reviews
(
3
)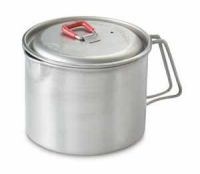 Description
Use the MSR Titan Kettle as a pot, mug or bowl on your bare-minimum camping treks, or add this .85-liter kettle to your Titan Cookset. With a tight-fitting lid and a drip-free spout, you can heat and pour water for tea or instant soup without spilling. MSR fortified the 28 fluid ounce Titan Kettle with lightweight, strong titanium material, so this cookware stands up to seasons of camping and only adds 4.2 ounces to your pack.
3 Reviews
Lightweight and versatile
Review by: metawolf, 2007-03-25
Used it climbing Mnt Aconcagua. Doubles as a pot and a cup. Only downside is no measuring marks. It is very durable.
Review
Review by: taraus_de_bull, 2004-07-28
Extremely durable and lightweight. Titanium is great for a very strong and lightweight metal, but it has one problem, it doesn't transfer heat efficiently. And thats why I don't like this product, it takes me much longer to heat up the contents then it would in stainless steel.
Review
Review by: whitefingers, 2004-05-31
Id buy it again. One of those peices of gear ya just love bustin out.