Previous
Titan Titanium Mini Cookset
Item Details
|
Reviews
(
1
)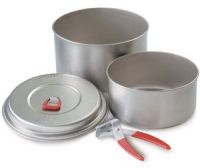 Description
When you need to carry multiple pots but donít want to carry extra weight, the Titan Mini titanium cookset is the perfect solution. This set includes 1- and 1.5-liter pots and a snug fitting lid that can double as a plate.
Nest your Titan Kettle in the 1-liter pot or put the whole set into the Titan 2-liter pot for even more versatility. (Kettle and 2-Liter Pot sold separately.)
Insulated handles keep you from getting burned.
1 Review
Lightweight wonder
Review by: metawolf, 2007-03-25
Very light and very durable. Easy to clean too. The MSR Titan kettler and MSR Titan cup both can fit inside. Careful when cooking rice as the heat concentrates at one spot. Need constant stir when cooking rice.