PackTowl Original
Item Details
|
Reviews
(
2
)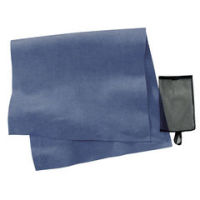 Description
When space and weight is limited, reach for the MSR Packtowl Ultralite for soft, quick dry comfort. Made from a soft and durable polyester/nylon blend, the Packtowel Ultralight is the ultimate balance of lightweight and high absorbency, quickly soaking up moisture and then ringing out almost completely dry. The most absorbant lightweight towel on the market today, the Packtowel Ultralight brings backcountry comfort to even the most discerning lightweight travelers.
2 Reviews
Review
Review by: mgoodro, 2005-04-09
I bought a large one on sale and cut it into three decent size pack towels. After just one wash they become very soft and much nicer to use. Even after many, many washings they still work as advertized. It's easily worth the weight to keep a small section with your gear to dry stuff off; I've cleaned up a goodly amount of spring mud with just a 6 inch strip.
Review
Review by: rockmaninoff, 2004-08-21
This product works exactly like it claims: it soaks up water, you wring it out, and continue to dry off. Clip it to a tree branch and it dries out overnight. Don't expect it to work like your plush bathroom towel, and wash it a few times before taking it into the backcountry.