PackTowl Ultralite
Item Details
|
Reviews
(
3
)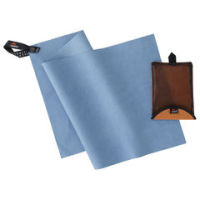 Description
When space and weight is limited, reach for the MSR Packtowl Ultralite for soft, quick dry comfort. Made from a soft and durable polyester/nylon blend, the Packtowel Ultralight is the ultimate balance of lightweight and high absorbency, quickly soaking up moisture and then ringing out almost completely dry. The most absorbant lightweight towel on the market today, the Packtowel Ultralight brings backcountry comfort to even the most discerning lightweight travelers.
3 Reviews
packtowel
Review by: jonboy8806, 2007-04-02
Pretty good thing to keep handy for getting rid of all that sweat, and dries pretty quick too. but not the softest.
Review
Review by: hypersen21, 2006-09-30
No text provided
Review
Review by: scubasnyder, 2004-08-20
Very light and compact absorbs water very well, good for drying sweat off your face. Pretty durable, some of the other packtowls feel better to touch but this is probably the best one because of how light it is.