Denali III Trekking Pole - 1 Pair
Item Details
|
Reviews
(
2
)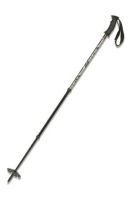 Description
The MSR Denali III Trekking Pole is a technical and cost-efficient pole for backcountry snowboarders, alpine climbers, and anyone else who ventures into the wilderness. Made from 7000 series aluminum, this three-section pole is lightweight and telescopic for easy packing. The replaceable steel tips are durable enough for packed snow and rough trails, while dual density rubber grips minimize shock for comfort on long hikes. The Denali III poles winter baskets are designed with snowshoeing in mind, providing excellent flotation in deep snow.
2 Reviews
Review
Review by: climbingaggie03, 2005-10-24
I love these poles, I've used them a fair amount on all kinds of terrain, and they've worked great. They are far from the lightest poles out there, and they aren't anti shock (which I didn't really want anyways) but they are comfortable, solid, and in 3 sections so they collapse nice and small for when they need to be carried. you can also get different tips and baskets to suit the conditions
Review
Review by: gravitysucks, 2004-03-06
I admit I have pole vaulted across the glaciated headwall of a Mexican peak with my trekking poles. I would not suggest doing this. and my partners chubby niece once snapped one like a twig while trying her hand at the sport. the upside is MSR replaced my poles both times I sent them back, and never asked how they got to be in that condition. for more money, you could definitely get better or lighter poles, but then you would also feel worse about using yourself as a human catapult when they break.